Carolina Forest Day - 10/7/2023
MARK YOUR CALENDARS.
.. The Carolina Forest Civic Association is teaming with HC Parks and Recreation for our INAUGURAL CAROLINA FOREST DAY... FREE TO THE PUBLIC.. There will be a Business Expo, CRAFT Vendors and an Horry County Pavilion. It will be at the CAROLINA FOREST RECREATION CENTER (2254 CF Blvd) from 12N to 5 PM.... then, come join us all for the HCPR 5K GHOST TO THE COAST RUN.. Please check out our facebook, website (
www.cf-ca.org
), NextDoor Neighbor and the Horry County Parks & Recreation websites for more details.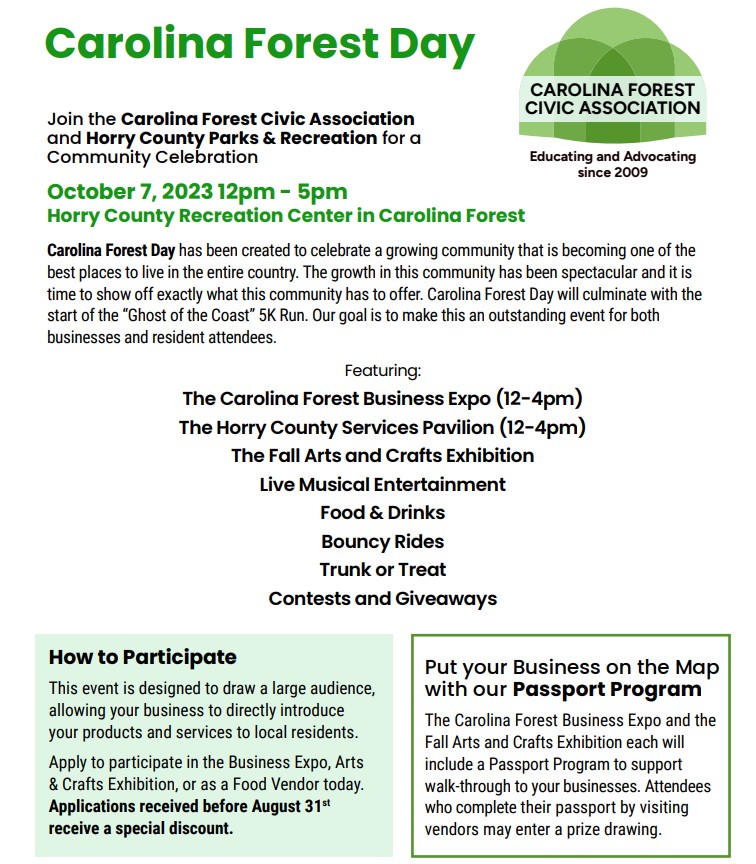 Monthly Meeting - 10/18/2023
HCFR Assistant Chief of Professional Standards and Community Risk Reduction Mark Nugent and Anthony Casey (PIO)
6 PM Carolina Forest Recreation Center, Carolina Forest Blvd
Annual Meeting - 11/15/2023
Annual Meeting & Elections
6 PM Carolina Forest Recreation Center, Carolina Forest Blvd
Monthly Meeting - 12/13/2023
NO MEETING - There is no meeting scheduled for the month of December