Issues and Concerns of Carolina Forest
Carolina Forest Voter Info
ALL: As we discussed at the Nov 16, 2022 Annual Meeting, Voter turnout is a priority to our future. These are the numbers for the November 2022 Mid Term Elections. We need to get everyone out to vote...

Issues of 2023
Santee Cooper – New Street Lights Leasing Program 3/13/2023
Good news! On March 6 th , Plantation Lakes (PL) signed a new agreement with Santee Cooper, ending their four-year quest to obtain a more equitable lease arrangement for their streetlights.
This agreement guarantees that PL will save between $60,000 and $340,000, depending on the length this contract is allowed to be in place.
This "Experimental Rate" is designed to benefit communities that have some or all their streetlights and poles categorized as "premium". There are a number of Carolina Forest communities that fall in this category. Read the following information to see if this applies to your HOA/POA.

The four documents provided below will help guide your inquiry. You may find it helpful to carefully read the FAQs and then skim the remaining documents to acquaint you with their content.

For additional information and/or to add helpful info to the Civic Association's
database on this subject, contact Shawn Sines, CFCA Vice President, at
[email protected]
FAQ | Letter from Rep. Tim McGinnis | EXPERIMENTAL PRIVATE OUTDOOR LIGHTING SERVICE CONTRIBUTION | Santee Cooper New Lease Proposal
Issues of 2022
Candidates Forum 5/18/2022
HC Council, HC Council Chair and HC School Board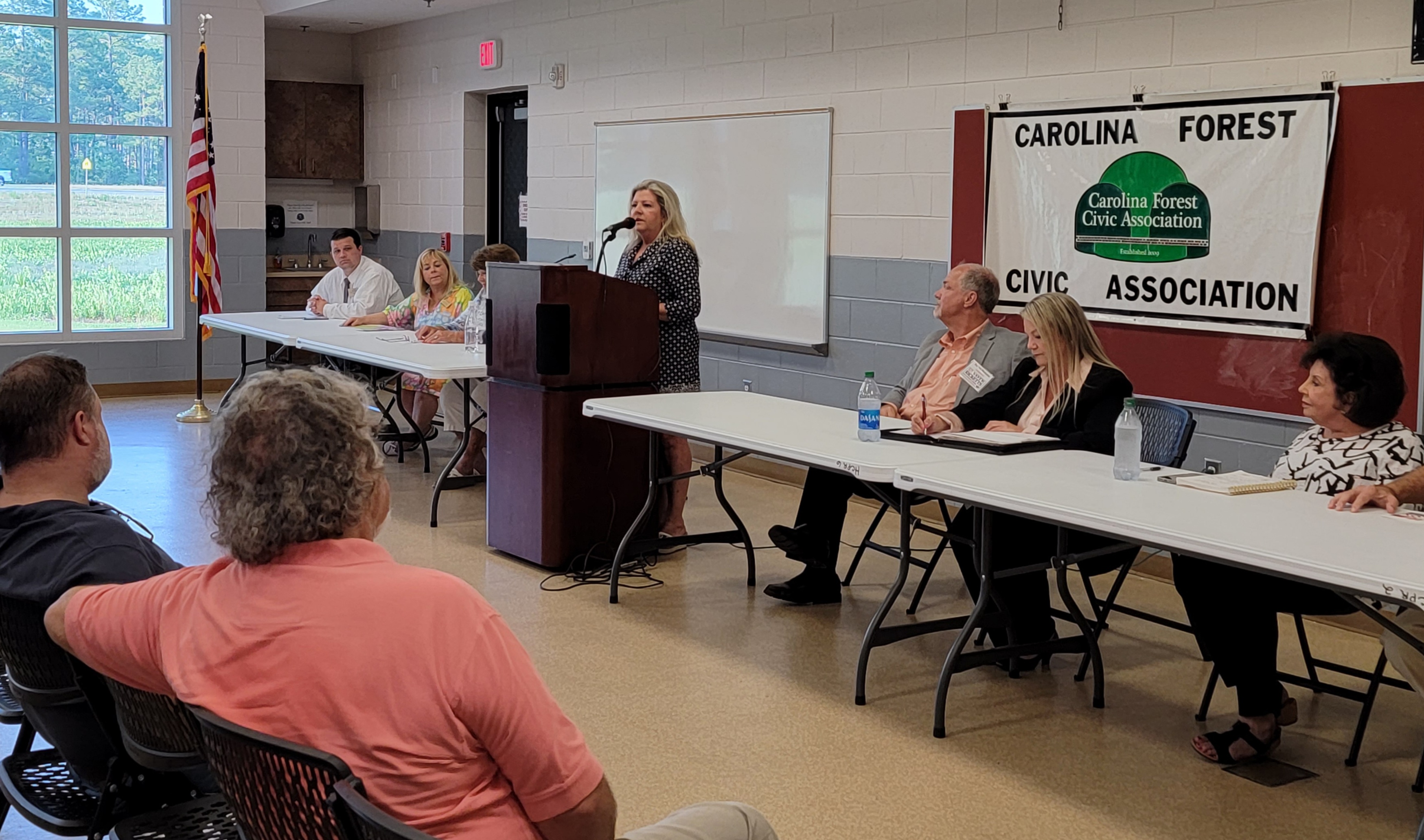 Relay for Life 5/7/2022
TY Vinny & Woody for representing the CFCA!
Earth Day 4/23/2022
Volunteers from the Carolina Forest Civic Association at EARTH DAY AT THE BAYS... April 23. 2022
Pictured are: Vinnie Napolitano (Liaison, Families In the Forest),
Herman (Woody) Wood, Treasurer
Judy Giantonni (Director At Large and Membership Chair)
Victoria Napolitano
Linda Hughes
Lorraine Mallon
Ride III CFB/Postal Way Engineering Design

---
Issues of 2021
Horry County New Redistricting Maps


CFCA Statement Mining Ordinance 96-2020

Issues of 2020
Carolina Forest Blvd South Side Multi-Use Path Plans
Issues in 2018 & 2019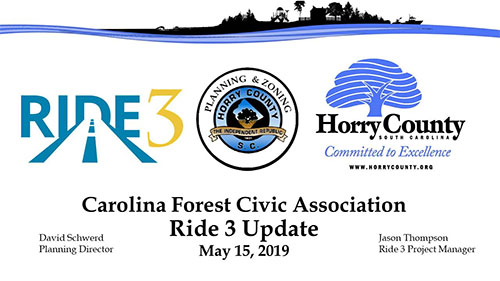 Click to View Presentation
Earth Day 4/23/2022
Volunteers from the Carolina Forest Civic Association at EARTH DAY AT THE BAYS... April 23. 2022
Pictured are: Vinnie Napolitano (Liaison, Families In the Forest),
Herman (Woody) Wood, Treasurer
Judy Giantonni (Director At Large and Membership Chair)
Victoria Napolitano
Linda Hughes
Lorraine Mallon