Fellow Carolina Forest Civic Association Members and Residents: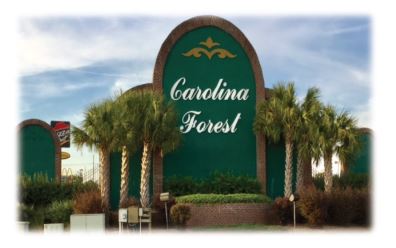 At our February 21, 2018 Civic Association monthly meeting, a concerned citizen approached us about an article posted on www.myrtlebeach.com. The article was a summary of the Carolina Forest area and stated that "plans to incorporate are already underway." We immediately reached out to the editor of the website and they have since redacted this statement from their site. We have requested and are waiting on a formal letter to validate this redaction. The website did post the following:
Editor's Note: This page has been edited to correct an error. As of February 2018, there are no plans to incorporate Carolina Forest.
We want to reassure all CFCA Members and Residents that the Future of the Forest Committee is currently reviewing and studying the data presented in the 2017 Study. NO decisions have been made by the CFCA Board as to what direction they favor. Please stay tuned as the Future of the Forest Committee will be reporting back to the CFCA quarterly with any updates.
We ask all to read these documents and give us your input at the January 17, 2018 Meeting of the CF Civic Association (6 p.m. at the HCPR CF Recreation Center).
We need you as a community to guide us all into our future. Please step up and volunteer.
=========
Addendum Dated 11/20/2017 Clarification of Special Tax Districts
Update from Fred Crosby: Please find attached the addendum to the report made concerning Special Tax Districts.
Fred Crosby will come to the January meeting and correct the information for the Association. A Special Tax District is a viable option for the Community to Consider.